Posted by HoMedics UK on Sep 23rd 2021
COVID-19 | Air Hygiene | Returning to Work
*Enter for your chance to WIN 4 Air Purifiers for your workplace in our latest giveaway. Learn more here.*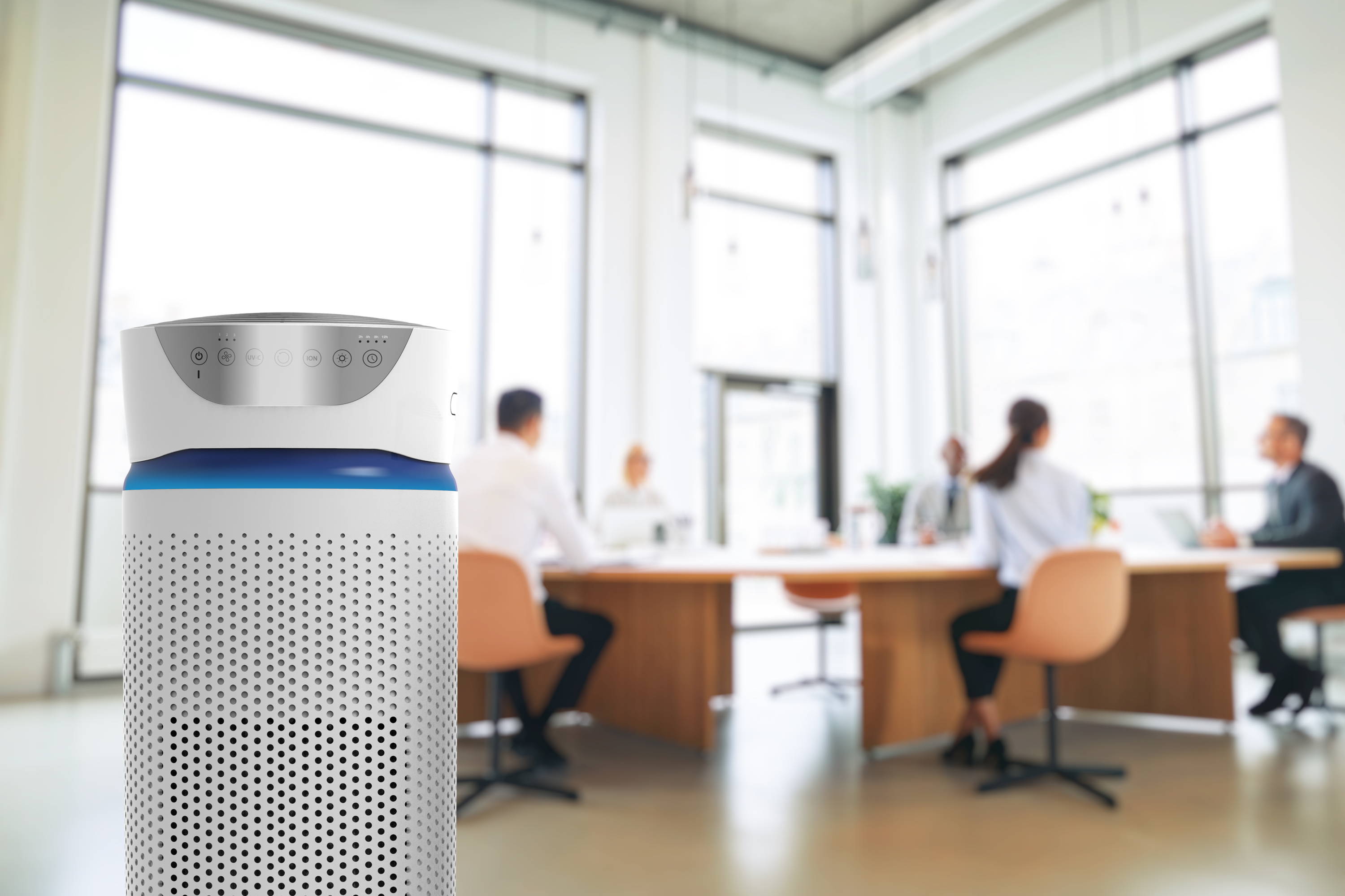 As the world opens up again, many of us are understandably apprehensive about the return to the office. But what can we do to further reduce the risk of COVID-19 in the workplace?
There is growing evidence on the role air hygiene plays in protecting people indoors. Pairing an air purifier with good ventilation, we can help prevent contaminated respiratory particles transferring from person to person.
Leading research in aerosols demonstrate that respiratory particles can travel further and remain airborne for longer than previously thought possible. These findings confirm how crucial good air hygiene is for protecting people indoors and how it should be a priority for businesses looking to reopen safely, ensuring there is adequate ventilation and utilising air purifiers with HEPA filters.
According to a study published by Cambridge University Press, air purifiers can 'help reduce the risk of acquisition of respiratory viruses that are transmitted via aerosols.'
This study, carried out in a tertiary-care public hospital in Melbourne, Australia, was used to determine droplet transmission rates and aerosol clearance in the clinical spaces of a hospital ward. The very same ward that had cared for COVID-19 patients in the months prior.
The results were very promising, showing a positive correlation between air purifier usage and individual room and hallway clearance, with staggering results showing that 99% of aerosols could be cleared within 5.5 minutes using two small domestic air purifiers*.
Another trailblazing study implemented by select schools in Bradford, UK, is discovering how using air purifiers could reduce the risk factor of entering classrooms and common spaces. The pilot study, backed by £1.7 million of government funding, is a hopeful look into the future and helping to build a safer, healthier community!
If the results of this study are as favourable as those in Australia, there are hopes to roll out the scheme across the UK as early as 2022.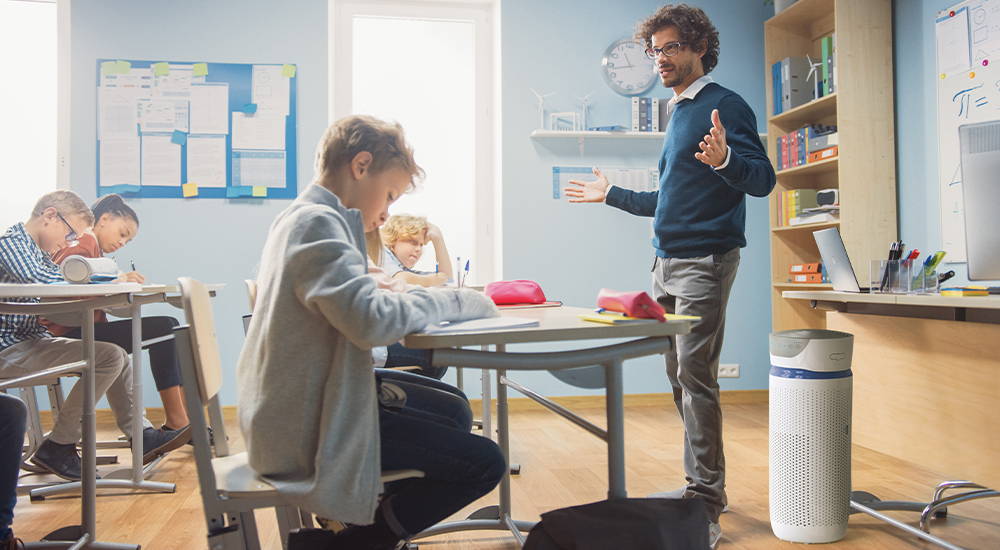 What does this mean for you?
With studies preaching the benefits of air purifiers in reducing the risks of COVID-19, there are justified steps you can take to create a safer, cleaner work environment.
Compliance with government guidelines is the first priority, but what more can we do to ensure maximum protection in the coming winter months?
With a 360° True HEPA filtration that removes 99.97% of airborne bacteria and allergens, the HoMedics 5 in 1 TotalClean Air Purifier promotes a high air turnover, cleaning the air 4.8 times an hour dependant on room size. This, combined with adequate cleaning regimes and good ventilation can help protect you and those around you against COVID-19.
---
Air purifiers with HEPA filters installed can effectively capture particles the size of (and far smaller than) the virus that causes COVID-19. The virus is approximately 0.125 microns in diameter, which is around 170% larger than the smallest particle a HEPA filter can capture, 0.01 micron.
This means purifiers with HEPA filters have been proven to efficiently capture viruses (and any aerosolised droplets of saliva and mucus that contain them) that are drawn into their filters. Investing in an air purifier at home or in the office, can be an excellent step towards protecting yourself and those around you.
Here at HoMedics, we specialise in holistic health and personal wellness. We are constantly developing our range of Air Purifiers to help you invest in a safer, cleaner environment for you and your family.
In an effort to help reduce office anxiety and boost mental and physical wellbeing, we're offering one lucky winner 4 air purifiers for their workplace. It's simple to enter and takes just a couple of minutes. Learn more here.
We're also offering 20% off Air Purifiers with code: AIR20 for a limited time only. Terms & Conditions apply.
*This is dependent on room size volume.
We're giving one lucky winner FOUR Large 5-in-1 TotalClean™ Air Purifiers for their workplace.
Here's how you enter for your chance to win👇