In Stock
Homedics Nano Facial Steamer with Adjustable Steam Nozzle
FREE shipping on orders over £30 | Free 30 day returns | 3 year warranty
Nano-sized steam particles for even deeper skin penetration
Adjustable nozzle and cosmetic mirror for precision steaming
43°C mist for optimal, visible results
Compact and portable with integrated handle
Detachable 70ml water tank
Suitable for all skin types
Free returns 30-day money-back guarantee

Secure checkout, purchase with confidence

Established since 1987
Refreshing Facial Cleansing and Hydration
A gentler alternative to other cleansing tools, the Nano Facial Steamer disperses nano-sized steam particles along with negatively charged ions to open pores and draw out impurities. Simplify your skincare routine and let this steamer help remove dead skin cells, blackheads, makeup and debris (thanks to its 43°C nano mist) and enjoy a clean, cleansed complexion that's prepped for both moisturisers, serums and makeup. In addition to cleansed skin, you'll also enjoy the fresh feeling of unclogged pores and a complexion that's better prepared for your skincare products - meaning improved absorption of your favourite creams and longer-lasting makeup. With an adjustable 45° nozzle and a cosmetic mirror panel, this skincare staple lets you take full control of your steam session - so you can enjoy an immersive experience and cleanse your complexion entirely, or opt for precision steaming should you have any problem areas. Sleek in design and easy to use, this facial steamer is compact and portable with a removable travel strap. Featuring a detachable water tank with a 70ml capacity, the Nano Facial Steamer is easy to top up and keep clean.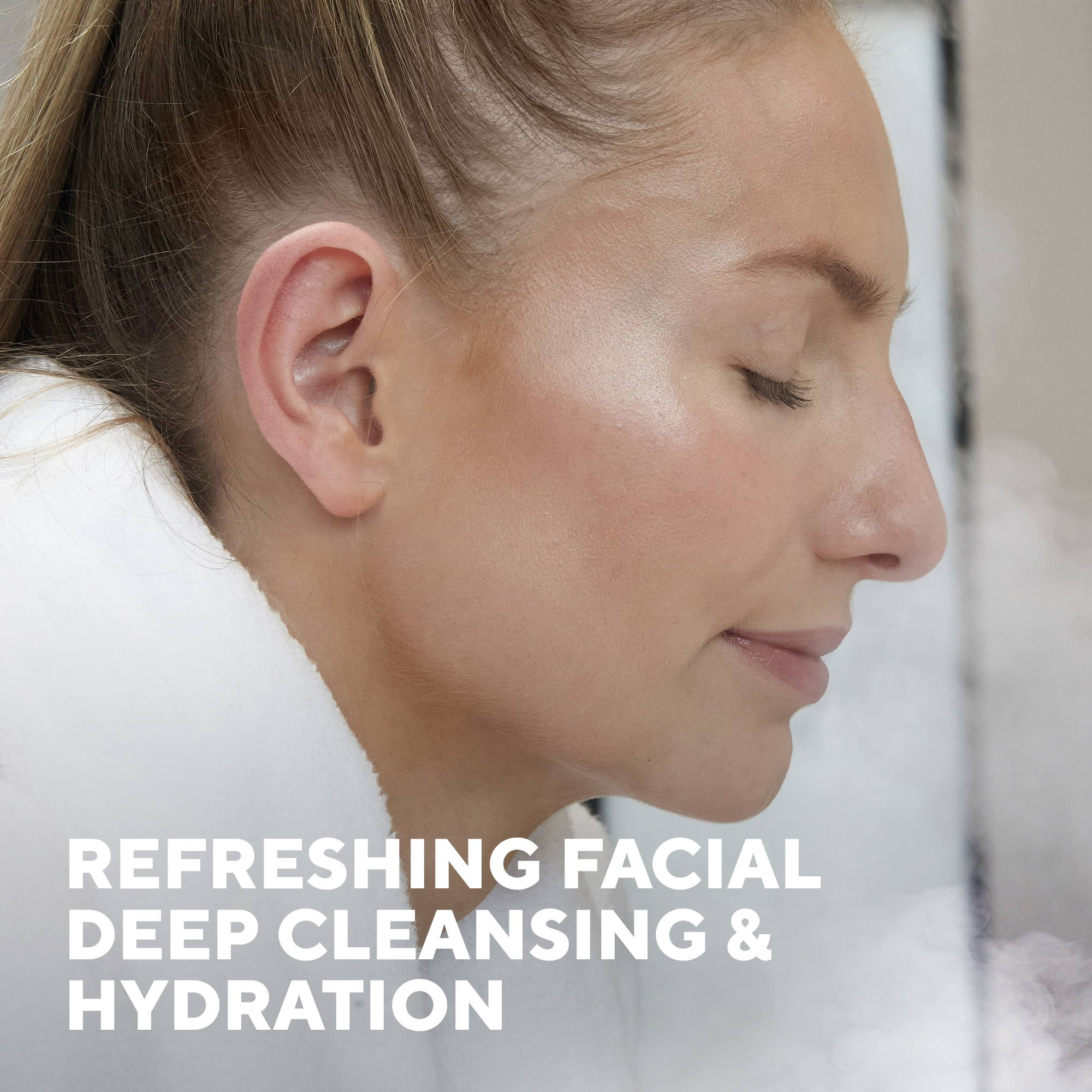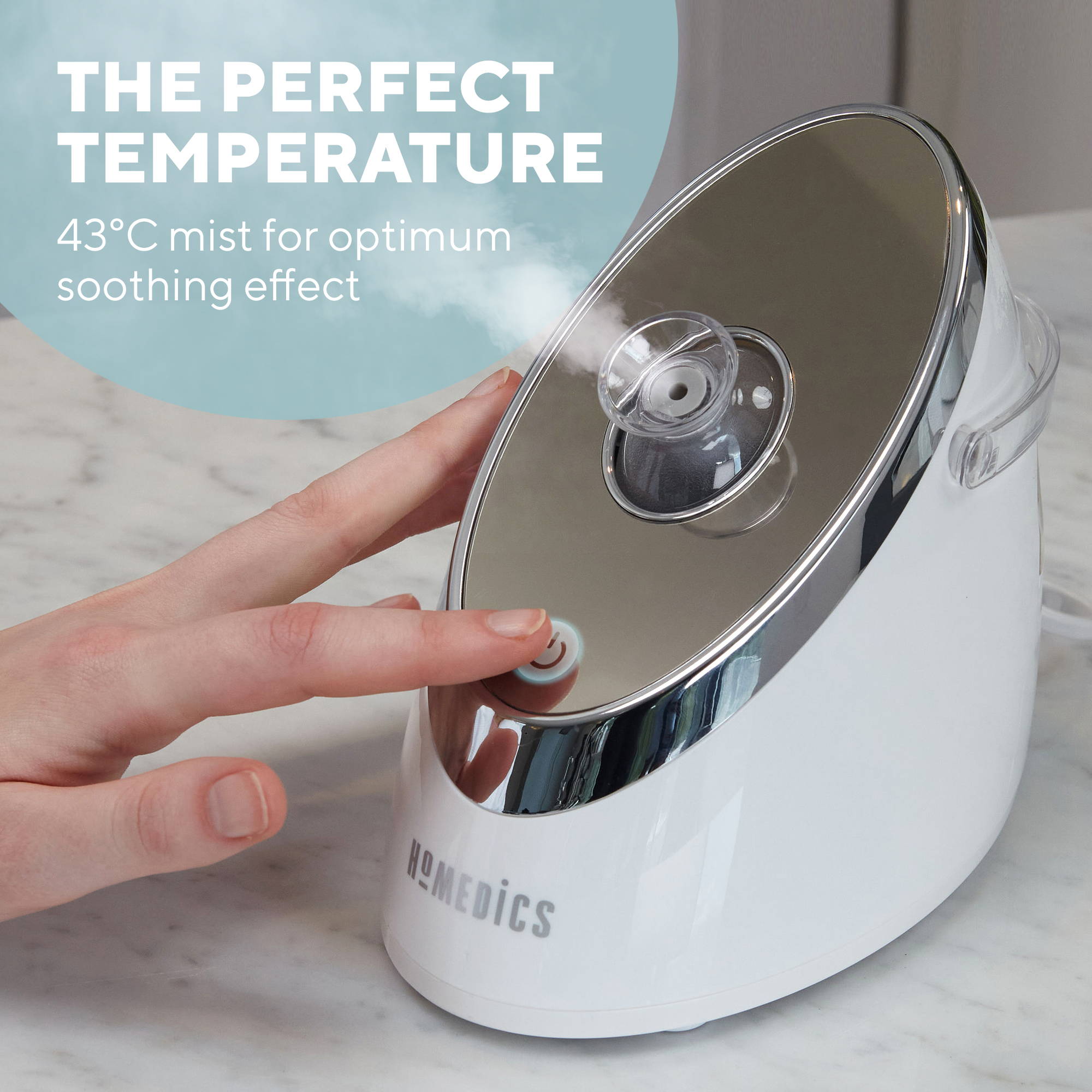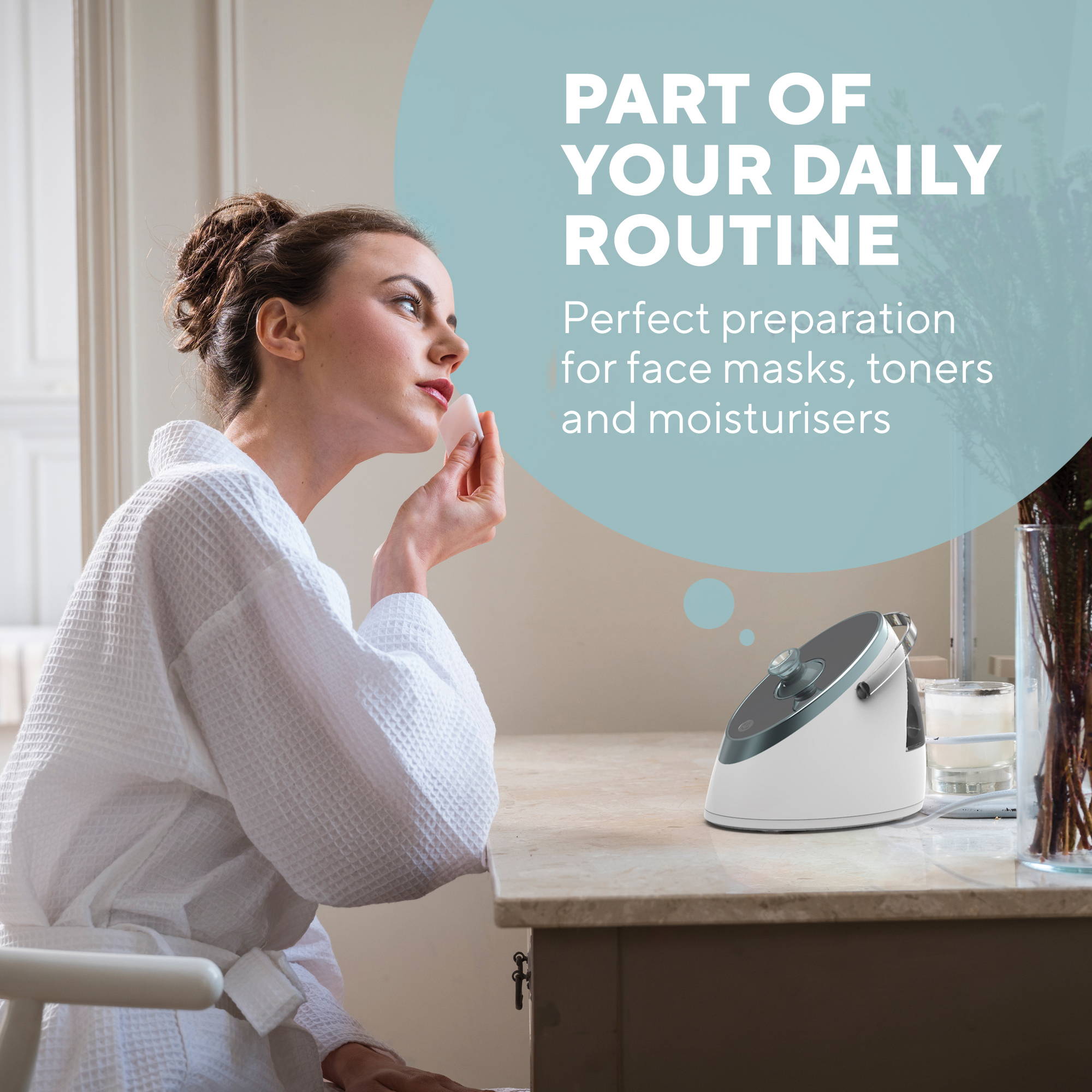 Refreshing Facial Cleansing and Hydration
Introducing the latest innovation in skin care at HoMedics – the Nano Facial Steamer. Different to traditional facial steamers, the adjustable steam nozzle allows you to focus on specific areas as well allowing for larger coverage.

Finer than regular steam, the nano sized steam particles penetrate deeper into the outer layer of skin, opening up pores. Opening pores often softens blackheads, making them easier to remove. You can also achieve better absorption of your skin care products with your new Nano Facial Steamer. Its elegant design compromising of a compact, portable base unit with an easy-to-remove travel strap makes the HoMedics Nano Facial Steamer an innovative upgrade compared to traditional facial steamers. Suitable for all skin types, be precise with the cosmetic mirror panel on your Nano Facial Steamer.

The detachable water tank with a capacity of 70ml makes filing your steamer with water easy. The mist temperature is around 43°C. Take it with you, your Nano Facial Steamer is equipped with a built-in carrier belt for easy use.